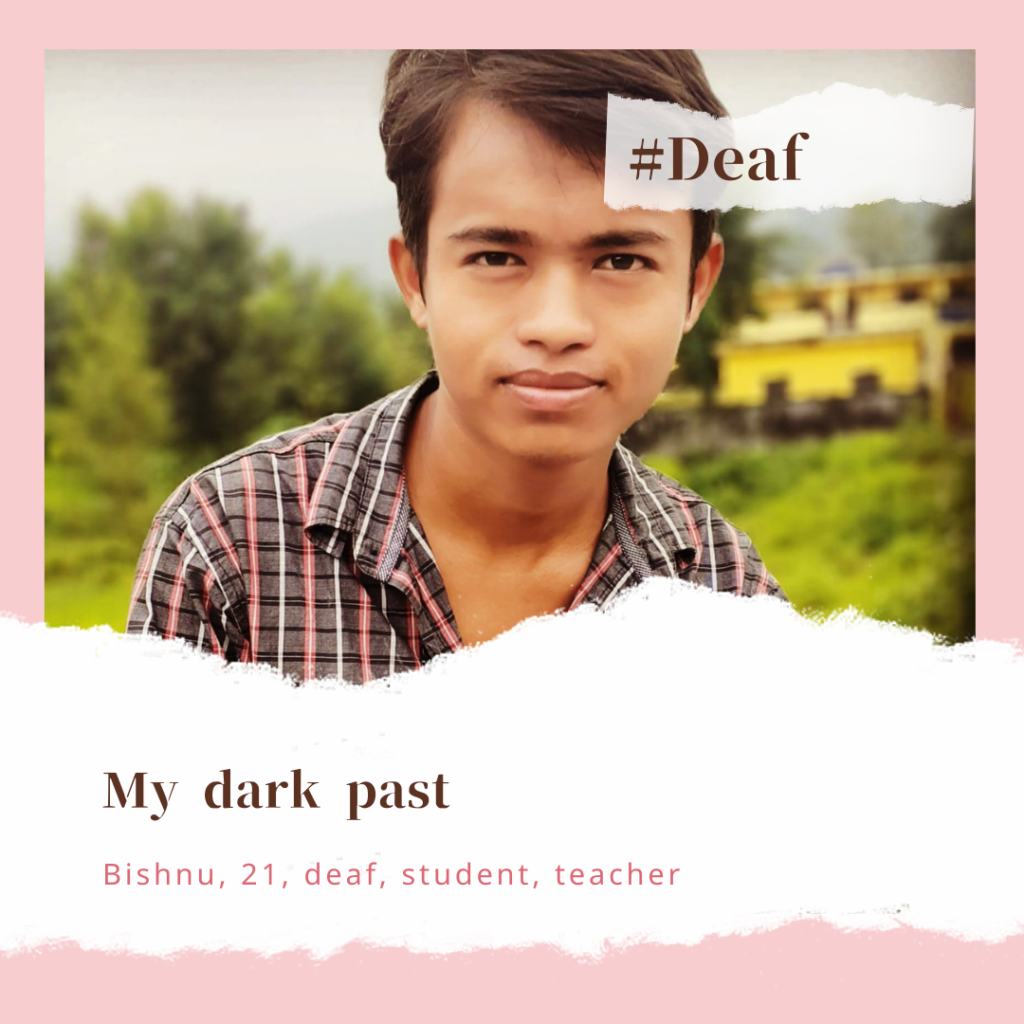 My dark past
Hello, I'm Bishnu Magar from Nawalparasi, Nepal. I'm deaf and here is my story;
I was born as a normal child in a middle-class family and was raised with great love & care. I was very bright & enthusiastic to study and learn. I heard my dad had dreamt a doctor son in me but alas my life got a weird turn. It was neither accidental nor the result of any sickness but it was fully a man's responsibility which turned me completely deaf. When I retrospect that dark past, it still gives me a heart-ache mingled with rage towards the person who caused it. However, I have already let it go and just took it out today to share from my memory-shelf.
It was during rainy season when I was studying in grade-5. Everyone was busy in planting paddy and in the midst of those busy hours, my grandma suddenly died. Due to this, I couldn't go to school for 9 days until the mourning period was over. After 9 days, I went to school as usual.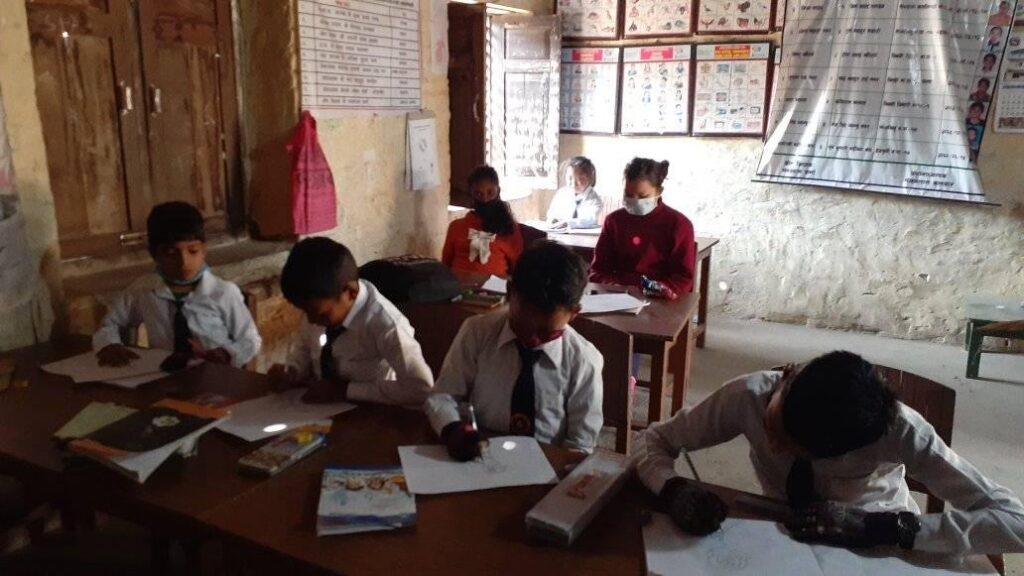 It was time for English in the third period and I didn't know that the teacher had told to memorize the word-meaning the day before. He was asking everyone one by one and when it was my turn, I told him,
'Sir, I was absent for 9 days.
'Why?' He angrily asked.
'My granny passed away, so.'
'You are supposed to be a bright student but you were absent for 9 days! Shame on you, idiot!' He then pulled my hair with his left hand and smacked me heavily on both cheeks (but even my ears got hit) with his right hand. He was so infuriated that he kept smacking me 15-20 times. I couldn't do anything other than bearing the pain with tears. After beating me, he even warned me not to tell anyone otherwise I would be punished more harshly the next day. I silently cried laying my head down the whole period and so did I in the next period too. Then, it was lunch-break. I couldn't take the other classes and so I returned home early.
I used to return home from school always with a happy heart but that day, I was returning with a sad heart. My mom immediately asked me what had happened. When I saw her, I couldn't hold my tears and told her wailing that I got beaten by the teacher. She then asked me the teacher's name but I refused. I said, "if I told you his name, you'll complain tomorrow and then he'll beat me more harshly." So, I didn't tell her right then but she persuaded me again after dinner assuring me that she won't go and complain. Finally, I told her his name.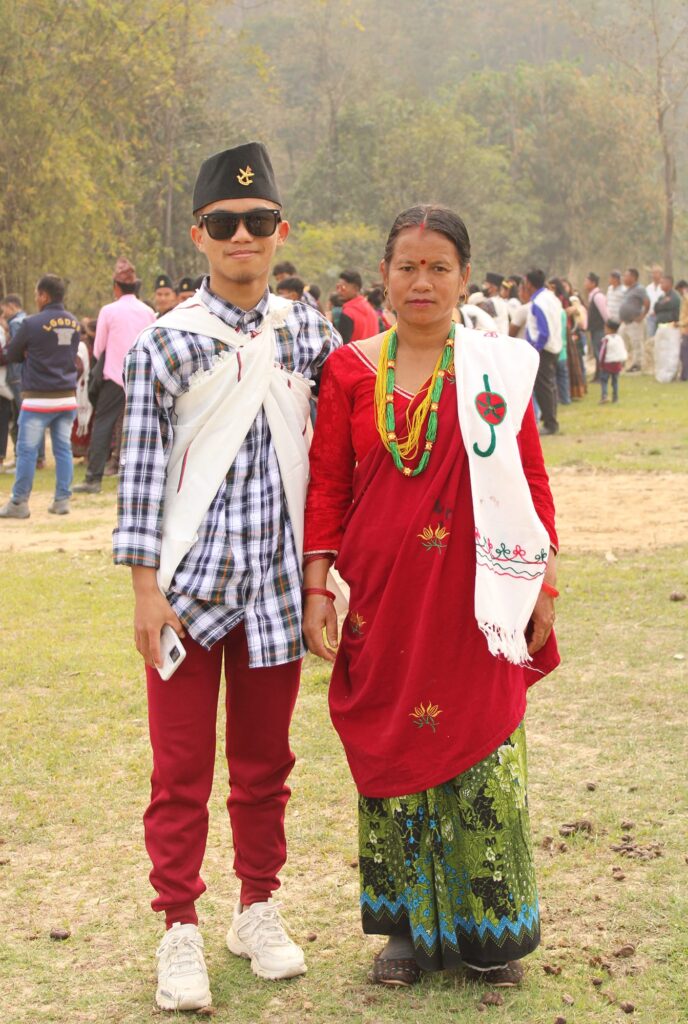 On that very night, I had a terrible ear-ache that I groaned in pain for hours till I fell asleep and this continued for one more day. After the pain went away, my ears felt as if blown with air sometimes or blocked airtight sometimes. Then, as days passed–by, my ears started losing hearing till one day, I completely lost it. I got to visit the hospital only after that and the doctor said that it was too late to fix my hearing.
Slowly all the teachers came to know about my hearing-loss but no one cared immediately. It was only after 4-5 months that one of my teachers (another one) visited my home and questioned me and my mom. At that time, I mustered my courage to spill out the truth but to my dismay, even that teacher didn't believe me but insisted that there might have been other reasons for my hearing loss. I later heard that he did hold a teacher's meeting at school after meeting me but no actions were taken against the beating teacher. I now understand that was also like politics, politics of school-teachers. And the next day, I was afraid to be beaten again by the same teacher but he didn't, instead he leered at me with his fiery red eyes.
I endured my pain as time flew by and today I'm studying in B. Ed. 1st year and I also teach some local deaf students at primary level. Only after attending adulthood, I once intended to file a case against the beating teacher but I relented because there is no point in going through a long monotonous, over-straining & unreliable legal system of Nepal. After all, he was my teacher, cruel or not. So I forgave him and moved ahead forgetting the dark past. May my story persuade to relent today's smacking teacher and may no one be smacked like me in the future. Thank you!