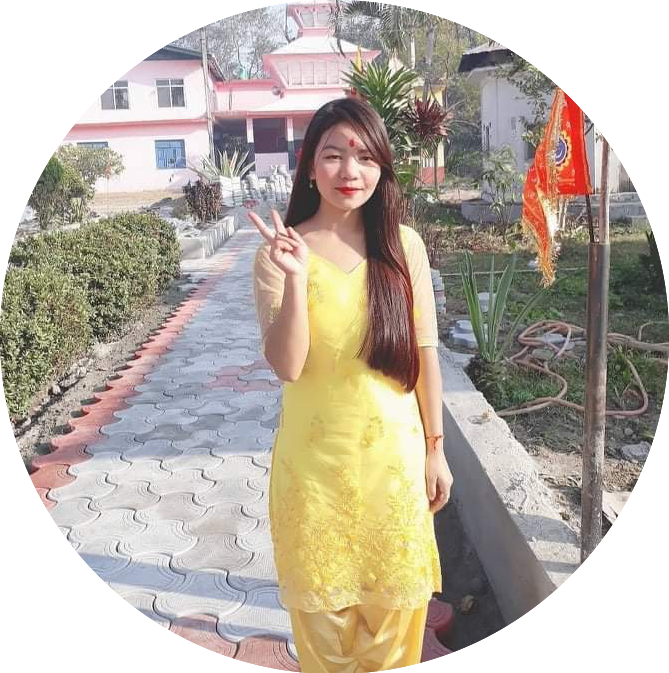 Sushma Gurung🇳🇵
Hobbies: Teaching, reading novels, and exploring new places

At the age of fourteen (studying in grade 7), I suddenly lost my ability to hear. I was devastated. My parents took me to many big hospitals all over Nepal but sadly I was not cured. The doctor said it was sudden sensorineural hearing loss. I was a bright student but after I became deaf, I had to stop going to school. At that time, I was very sad and went into depression locking the door of my room and sitting there all alone. Sometimes some of my relatives would visit my home and would make fun of me calling me 'dumb'. I was very sad and had no hope for my future.

But after three years, one day I got to know through my neighbor that there were many deaf people just like me, there are also deaf schools for them and they communicate with each other with the help of sign language. I was so excited. That was the happiest news for me. After that, I went to visit Biratnagar and Dharan deaf schools and got to see many deaf friends just like me.  My happiness knew no bounds when I first saw them. But sadly, I couldn´t communicate with them because I didn't know sign language at that time. So, I went to the Mechi association of the deaf, Birtamod, and took a sign language course for six months. After that I restarted school getting admitted to grade 8. I worked hard and passed my secondary level in the first division. My only aim was to become a teacher and teach deaf students so I joined Manakamana multiple colleges of Birtamod, Jhapa, and took education as my major. I studied with all the normal people who could hear.  I was the only deaf one there in my class but I didn't mind at all and never gave up finally I came first in both 11 and 12. And now I am doing my bachelor's and I'm working hard to become a teacher, teach deaf students and make their future bright.

So, you see, my message to all the people with hearing loss is this; no matter what disabilities you have, never give up and be confident and believe in yourself, nothing is impossible. 

Currently, I'm working in 'DEAF SHIRU' as a Nepali sign language teacher embracing its purpose. I had always wanted to work in disable related fields but hadn't gotten any opportunity. But my friend Shuhei has given me an opportunity to become an NSL teacher and I'm very very thankful to him. In the upcoming days, I will continue to do my work well and will always support DEAF SHIRU . Thank you.